Loucas Lianos, NASM CPT, PES, CES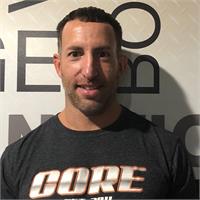 Loucas Lianos, Owner of Core Fitness Studios Inc., has been an industry professional and personal trainer for over 25 years. He is certified through the National Academy of Sports Medicine (NASM) as a personal trainer and performance enhancement specialist, as well as a TRX® certified trainer. As a NASM Performance Enhancement Specialist, Loucas has the ability to help you improve your flexibility, speed, agility and performance of both professional athletes and weekend warriors. His passion for fitness is evident to everyone around him and extremely motivating to his clientele.
Loucas has worked with a variety of individuals at all different training levels from high school athletes, to Long Island's C.W. Post women's basketball team, adolescents, and woman and men of all fitness levels in their mid-70s. He has helped create many success stories, including Season 3's winner of "The Biggest Loser", Erik Chopin. He specializes in weight loss, strength and conditioning, flexibility, sports specific training, corrective exercise, High-Intensity Interval Training (HIIT), and overall cardiovascular conditioning.
Loucas Lianos, NASM CPT, PES, CES is currently not instructing any classes.